In-person class
Thursdays 12:30 – 1:30 pm HST
Kumu Malia LOVES the basics because she understands that a solid foundation underlies every graceful hula. In this class, careful attention is given to basic steps and gestures so that the dancer can access deep inner confidence while dancing. Party hulas will be emphasized so come prepared to have good a time!
 In person students- please, bring your own pa'u skirts and props as needed. Rentals available. You will be temperature checked and expected to maintain masks, social distancing and hand sanitizing at all times. If you have symptoms of COVID 19, please refrain from attending.
5/27/2021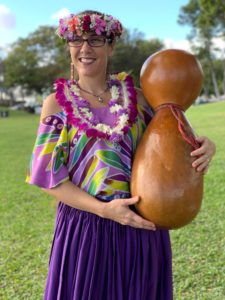 Kumu Mālia Ko'i'ulaokawaolehua Helelā strives to live a life of grace. Her halau, which meets at Still & Moving Center, is Na Hula Ola Aloha. Completing her uniki under Kumu Hula Puluelo Park in 2002, she now teaches hula and oli to a wide range of students, from infants and toddlers to kupuna. Mālia studied oli (traditional Hawaiian chant) under Kumu Hula Keola Lake. She began her formal training in lomilomi as a teenager. She was licensed by the State of Hawaii as a massage therapist in 1998 and as an esthetician in 2002. Her hula practice and lomilomi practice, she says, are the same. She continues to look to the beauty and grace of the Hawaiian environment for grounding and inspiration.
クム・マリアコイウラオカヴァオレフアへレラは優美ある人生を生きることをモットーとしております。クム・マリアのハラウ・ナ・フラ・オラ・アロハはスティル・アンド・ムービングセンターでクムの指導の下、レッスンに励んでいます。クム・フラ・プルエロパーク氏に師事、2002年にウニキ終了。現在、乳幼児からクプナまで、幅広い年齢層の生徒にフラ・オリ、ハワイ文化を教えています。クム・マリアはクム・フラケオラライクの教えの下でオリ(伝統的なハワイのチャント)を学びました。10代後半でロミロミの正式なトレーニングを始め,1998年にマッサージ・セラピスト,
2002年にエステティシャンのハワイ州認定ライセンスを取得。クム・マリアはフラとロミロミの訓練は同じだと言い、美しく、優雅なハワイの自然の恩恵に、本質とインスピレーションを求め続けています。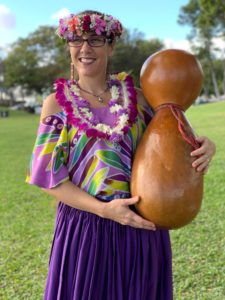 Get the Still & Moving App
This post is also available in: 日本語 (Japanese)