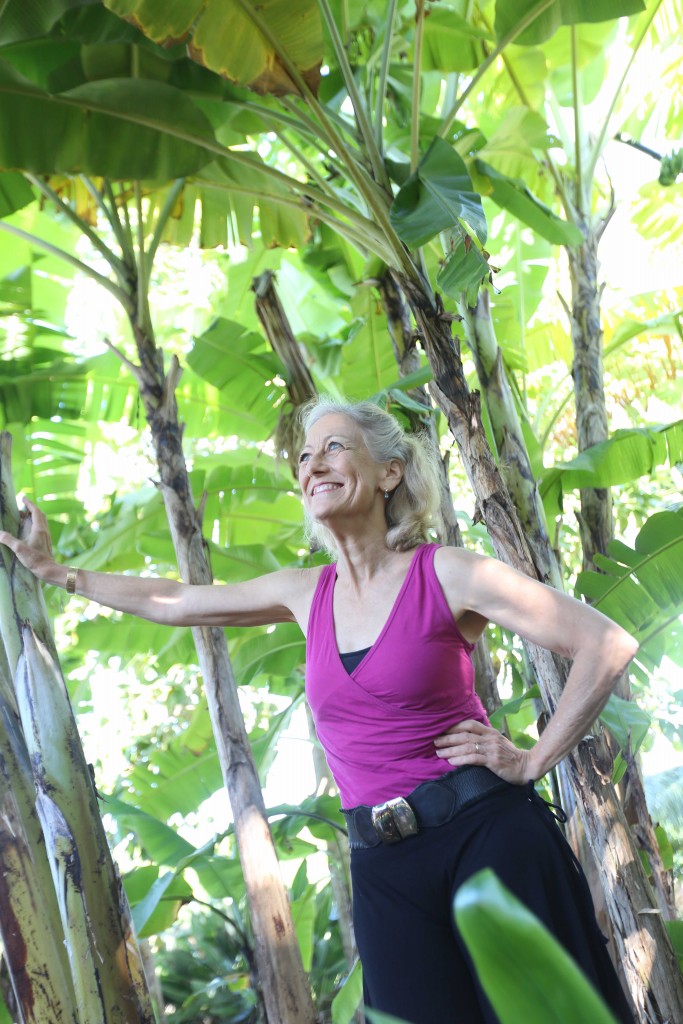 Renee Tillotson is the owner and director of Still & Moving Center Hawaii. Learn how joy inspired this visionary founder to bring our mindful movement wellness studio to life in Hawaii!
Renée Tillotson lives a life of Joy and whole-heartedness, which radiates into all she shares and creates. Fluidly balancing action with deep thought, she developed Still & Moving Center, a thriving hub of mindful community, from a little seed of an idea. In 2011, the beautiful mindful movement and wellness center in the heart of Honolulu, Hawaii, came to life.
Active in her youth, Renée competed in gymnastics for 11 years and served as the team captain for her high school then college gymnastics team at UC Santa Barbara. However, her dynamic movement-filled days went on pause when she began working and raising her three children. Over the following decades, she eventually stopped being active, nearly altogether. It wasn't until age 46, when Renée was exposed to Nia, that she had a life-changing realization that she was born to dance — and she thinks perhaps everyone else is too!
Renée's journey back into a life of dynamic movement brought her absolute Joy! She came to understand the essential connection between physical activity and mind-body-spirit wellness. Since 2002, Renée has trained in this unique movement practice called Nia, where martial arts meets dance meets yoga, meets self-awareness and inner growth. She earned her 2nd Degree Nia blackbelt from the Nia co-founder Debbie Rosas, and continues to share this gift with others in her weekly Nia classes at Still & Moving.
Raising her as a citizen of the world, Renée's parents taught her to love peoples and traditions from around the globe. She learned how valuing diversity makes our own slice of the world even richer. Later, in her adult life, Renée participated and studied at the Institute of World Culture in Santa Barbara. The Institute showed her a clear path to lifelong learning on an array of topics, from sciences to arts, to religions and philosophy. Her time at the Santa Barbara based cultural center especially helped to shape the global-minded ethos of Still & Moving Center.
Renée sets forth on her life's path with grace and enthusiasm. Honored by Nia Headquarters offering her a position as an international Nia teacher trainer, Renée declined the offer. She dreamt up Still & Moving, a wellness center in the heart of Hawaii, as a space where students, teachers, and trainers of a vast variety of moving meditation and yoga practices could meet and learn under one roof.
Renée incorporates philosophical and spiritually-minded conversation into the activities of Still & Moving Center. Engaged in a life-long spiritual quest, Renée assembles the Still & Moving Center Almanac each year, imbuing it with inspirational quotes by everyone from the Dalai Lama to Dolly Parton! With deeply intentional weekly and yearly focuses, this almanac offers a guiding light for both personal growth and meaningful community.
Renée's Story of Opening Still & Moving Center
I was feeling less of a sense of urgency about my presence in the office, having headed up the administration of our company Prometheus Construction for many years. Since 2002, I had been having a blast learning and teaching Nia. I Immersed myself in the Nia belt training system from White to Blue, and upwards to Black Belt.
My thunderbolt from the sky hit me in 2010 in the form of a mysterious black envelope with beautiful silver handwriting. It was from Nia co-founder Debbie Rosas, inviting me to become an international Nia trainer. Me! There were only 14 Nia trainers in the whole world at that point, so it was a tremendous honor. That letter turned my world upside down, causing me to take an entirely new look at my life and ask myself – at age 54 – what I really wanted to be when I grew up.
As turns out, I actually did not want, to travel the globe training people to be Nia teachers. I yearned for a studio for moving meditation on my beautiful island home, O'ahu: a hub in the middle of the Pacific for teachers and students from around the world to share their many mindful movement practices. I wanted a place where everyone could come to find Joy and "claim their magnificence"!
I am incredibly thankful to my husband, Cliff, for his support in fulfilling my dream. Within 7 months of my epiphany of wanting a studio for moving meditation, we opened Still & Moving Center on March 18, 2011 at 1024 Queen Street in Honolulu. That night of our Grand Opening, with all of the bright lights and smiling people watching wonderful performances of Yoga and Bharatanatyam dancing, Aerial Silks and Nia movement, I felt as if I had woken up in my own dream!
Since that time, we have seen hundreds of teachers and countless students make personal growth and achieve self-transformation within the nurturing context of Still & Moving Center.
Prometheus Construction provides a strong financial backing for all the ways that Still & Moving Center gives back to the community.
We focus on moving to heal and thrive.
<!=========Slider View Template 2.9.6=========>
Get the Still & Moving App
This post is also available in: English (英語)