Aerial lyra 7 week Performance series with Tara-Renee Whalen
May 25, 2023, @ 7:15 pm

-

July 6, 2023, @ 8:15 pm

HST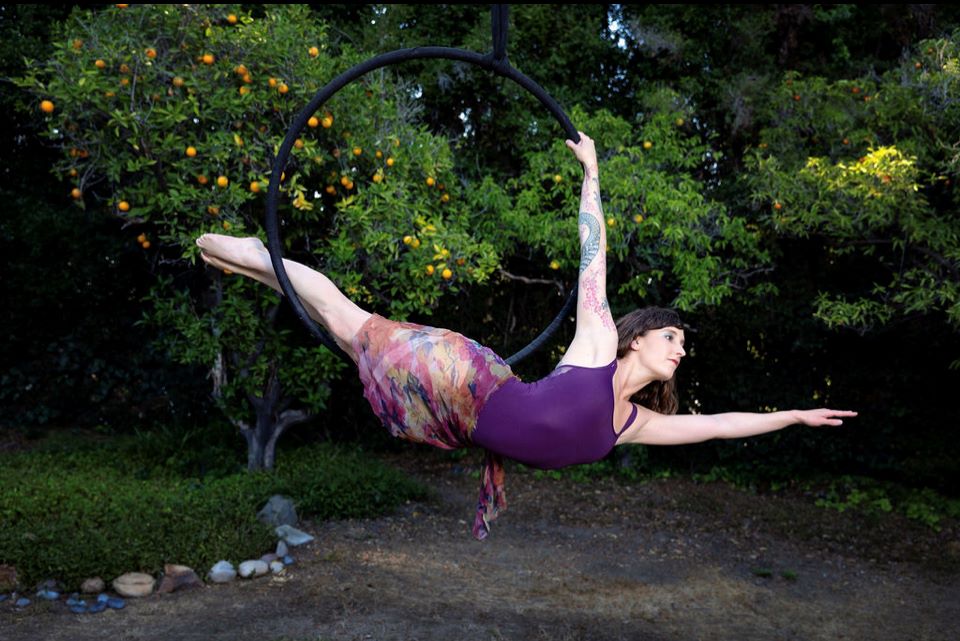 7-Week Series:
May 25 to July 6, 2023
Thursdays, 7:15-8:15 pm HST

$210 plus tax
Students will be invited to perform in an informal demonstration at the end of the series.
Experience the thrill of applying your skill in the air to a new aerial apparatus, the Lyra! In this class, you will practice your skills on the circular steel Lyra also known as the Aerial Hoop or Aerial Ring or Cerceau in French. Related floor exercises and stretching help prepare your body for the graceful acrobatic moves you do on the Lyra. 
The techniques and strength-building you develop on the Lyra help you on all aerial mediums. Aerial apparatus cross-training improves core control, grip strength, and upper body strength. Note: it takes more than one class to feel these benefits! Enjoy a fabulous, unique workout with restful, rejuvenating closure.
Kindly let your instructor know of any injuries. Contra-indications for aerial classes: glaucoma, heart-conditions, fused spine, pregnancy beyond doctor recommendation.
Clothing requirements: tight-fitting; no zippers or metal; under-arms covered. Jewelry off. T-shirt on! No perfume.
Please arrive 15 minutes early to ensure you can safely enjoy the class. Since space is limited and setup time is necessary, we are not able to accommodate late arrivals to Aerial classes. If you sign up and do not show up to this limited space class, you will still be charged for the class.
Photo by Jennifer Curry Wingrove
Tara's lifelong passions involve all things music& movement, including singing, dancing, musical performance, and fitness. She is equally passionate about helping others, which led to her becoming a Doctor of Occupational Therapy in 2008, starting her own private pediatric OT practice in 2016, in order to help children increase independence in their daily lives.
Tara's fitness teaching experience began 20 years ago, evolving from multiple methods: aquatic aerobics, ballet barre, belly dance, ashtanga yoga, aerial yoga, and aerial arts. She has certified in Yoga, Aerial Yoga and Aerial Silks with Trilogy Sanctuary and Aerial Revolution in San Diego, CA. Tara's love of the aerial arts began with hammock in 2016, and grew to include lyra, duo trapeze, as well as silks during her pregnancy. At this time, she primarily practices and teaches silks, hammock and lyra to both adults and kids. As an aerial instructor, Tara enjoys initiating new students of any age to invert for the first time, encouraging them to build confidence and master a new skill. She is very thankful to be part of the team at Still and Moving Center! More about her private occupational therapy practice can be found at www.growplaythrive.com  
Get the Still & Moving App
This post is also available in: 日本語 (Japanese)
Related Events