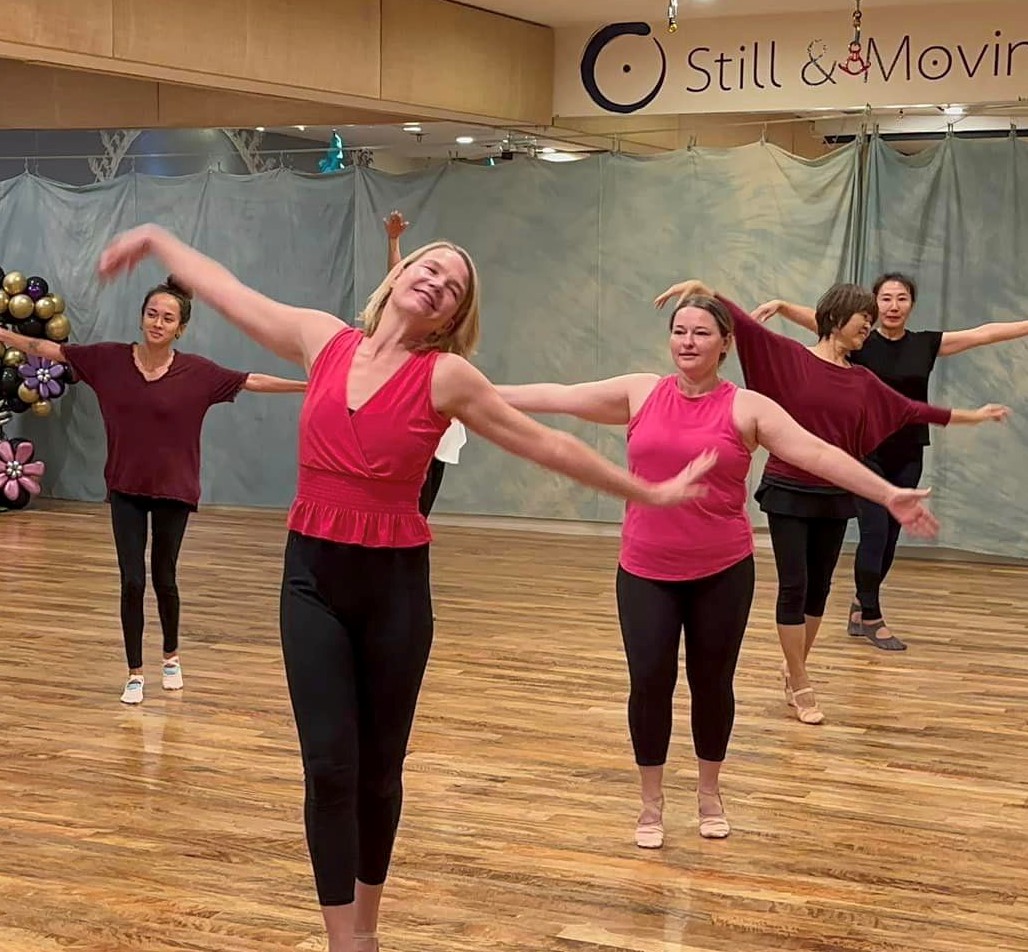 In-person & Online
Wednesdays 5:45 – 7:00 pm HST

Come learn the beauty of ballet, taught with a body-friendly approach perfect for adult dancers of all ages and movement levels! This beginning level ballet class incorporates somatic principles such as connection to breath, sense of presence in the moment, and movement as an internal experience rather than external form. We will work on flexibility, coordination, body connections, and growth – through pirouettes, laughter, and sweat!
"Begin at the Barre" meets you where you are, whether you have never danced ballet before or want to ease back into the dance form you loved years ago. Have ballet shoes? Wear them! Donʻt have ballet shoes? Wear thin socks or go get ballet shoes, whichever inspires you. Want to wear a leotard and tights? Do it! Want to wear yoga pants and an exercise top? Do it!
Elizabeth's students love the joy, humor and freedom of expression in her classes. Her classes inspire students to think about dance and life in new, exciting ways.
Elizabeth grew up in Hawaiʻi and is happy to be home, dancing in the place she loves, after more than twenty years of experience performing, teaching, choreographing and promoting dance. She has toured France, Brazil, Mexico, and the U.S. with Tennessee Dance Theatre, Chicago Moving Company, Lucky Plush Productions, and Breakbone DanceCo., and performed works by Bill T. Jones, Doug Elkins, Twyla Tharp, and Charles Weidman. 
Prior to returning to Hawaiʻi in 2018, Elizabeth co-founded two dance companies and two regional dance festivals on the continent, one to promote modern dance in Chicago and one for 7-12th grade dancers and their dance educators in Mississippi. She served as an Associate Professor of Dance at the University of Southern Mississippi (USM), where she taught ballet, modern, dance education, anatomy, choreography, and dance theory classes. While at USM, Elizabeth worked to bridge the Dance and Theatre Departments, including co-creating a full-length devised theatre work with funding from the National Endowment for the Arts and serving as Interim Chair for both departments. She holds a BA in Religion with a concentration in Women's Studies from Carleton College, and an MFA in Dance from the University of Washington. 
"Ms. Lentz-Hill has effervescence, an inner glow, and an absolute belief in what she is presenting in the studio. There is an indefinable type of energy that leaps from her to her students. These qualities projected not only from Ms. Lentz-Hill but also from the students in the residency as they worked with her. The dancers left her sessions with knowledge of a dynamic energy, knowing they had something of value to contribute to the community around them so much greater than an ability to be a technically sound dancer. To paraphrase a student in the residency – working with Ms. Lentz-Hill was not just a lesson in technique, it was a lesson in life! "  – Mid-Pacific Institute
Get the Still & Moving App
This post is also available in: 日本語 (Japanese)