Gems from the Wisdom Traditions / Satsang Ring out 2022 and Ring in the New Year of 2023 LIVE, Online With Renée Tillotson
December 24, 2022, @ 12:00 pm

-

December 31, 2022, @ 1:00 pm

HST
Saturdays, December 24 & 31, 2022
12:00-1:00pm
PLEASE NOTE THE HOLIDAY TIME ADJUSTMENT
Offered freely
Spiritual seekers!
Join this free offering to learn and share from the great wealth of the world's wisdom traditions and make yourself part of our 'ohana– our family!
On Dec 24, we will summarize 2022 with the theme of Being Truly Human.
On Dec 31, we will launch the 2023 New Year, with its theme: CITIZENS OF THE FUTURE as a brilliant gem to illuminate our minds and hearts.
If possible, please join with your new 2023 almanacs! Available both at the desk and by mail.
This community event is a great time to meet and interact with warm, inviting, thoughtful people. Our lively conversation takes us through a thought-provoking topic for discussion from the Still & Moving Center Almanac. We start with the premise that each participant has something valuable to share as we collectively focus on the inspiring topic at hand.
The group will then take up the topic presented, with opportunity for free conversation and questions, wonderings and examples, of how we might apply this week's teaching. The Still & Moving Center Almanac inspires each Saturday's topic for Gems.
In Sanskrit, Sat indicates Truth. The sangha is the group of students. We could therefore translate "Satsang" as a gathering of Truth-seekers. In our Satsang we share valuable life experiences to gain moments of "Aha!" together.
The moderator, Renée Tillotson, is Director & Founder of Still & Moving Center, engaged in an earnest, life-long spiritual quest.
See the recordings of past Gems talks here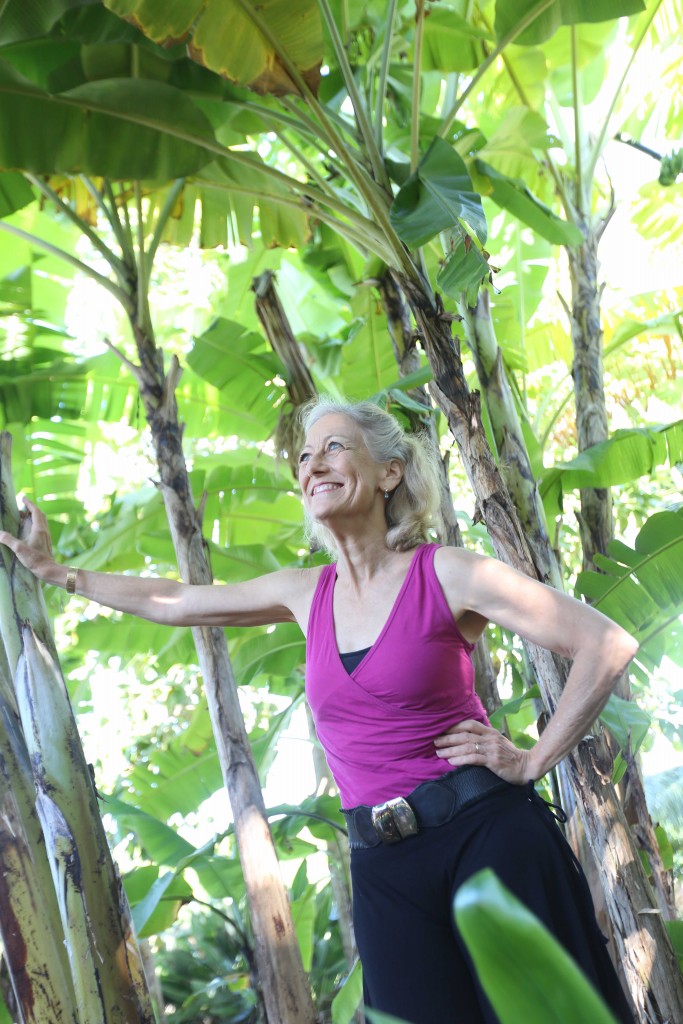 In addition to many individual pieces of choreography over nearly 2 decades of teaching Nia, Renée Tillotson choreographed the first ever Nia routine, Talk Story, to entirely Hawaiian music. She refined the choreography working privately with Carlos Rosas. 
Renée has been moving and sharing Nia since 2002. She took all of her Nia intensive trainings at Nia International Headquarters from the co-creators of Nia: Debbie Rosas and Carlos Rosas. She considers herself a citizen of the world. She brings mindful movement practices from around the globe under one roof at Still & Moving Center, which she founded in Honolulu, Hawaii in 2011.
Enthusiasm fills every class and event Renée leads. The motto: 'Move your body. Still your mind. Find center. Find Joy!" motivates her daily life.
A second degree Nia Black Belt, Renée says, "Through Nia I realized that I was born to dance…and perhaps everyone is! Nia connects me to pure Joy. I aspire to extend that Joy into the rest of my life and share it with every student who steps into my circle. Nia embraces both the yin and yang energies, helping all of us to balance our natures. Nia serves as a moving meditation for me, as well as a chance to play like a child again! I like to think of my classes as invigorating the body and elevating the spirit."
Engaged in an earnest, life-long spiritual quest, Renée assembles the Still & Moving Center Almanac each year, filled with inspirational quotes by everyone from the Dalai Lama to Dolly Parton. She loves taking part in conversations that merge philosophical, spiritual and scientific thought with a lifestyle of compassion.
Renée, Director, founded Still & Moving Center to share mindful movement arts from around the globe. Her inspiration comes from the Joy and moving meditation she experiences in the practice of Nia, and from the lifelong learning she's gained at the Institute of World Culture in Santa Barbara, California. Still & Moving Center aspires to serve the community, support the Earth and its creatures, and always be filled with laughter and friendship!
Get the Still & Moving App
This post is also available in: 日本語 (Japanese)
Related Events