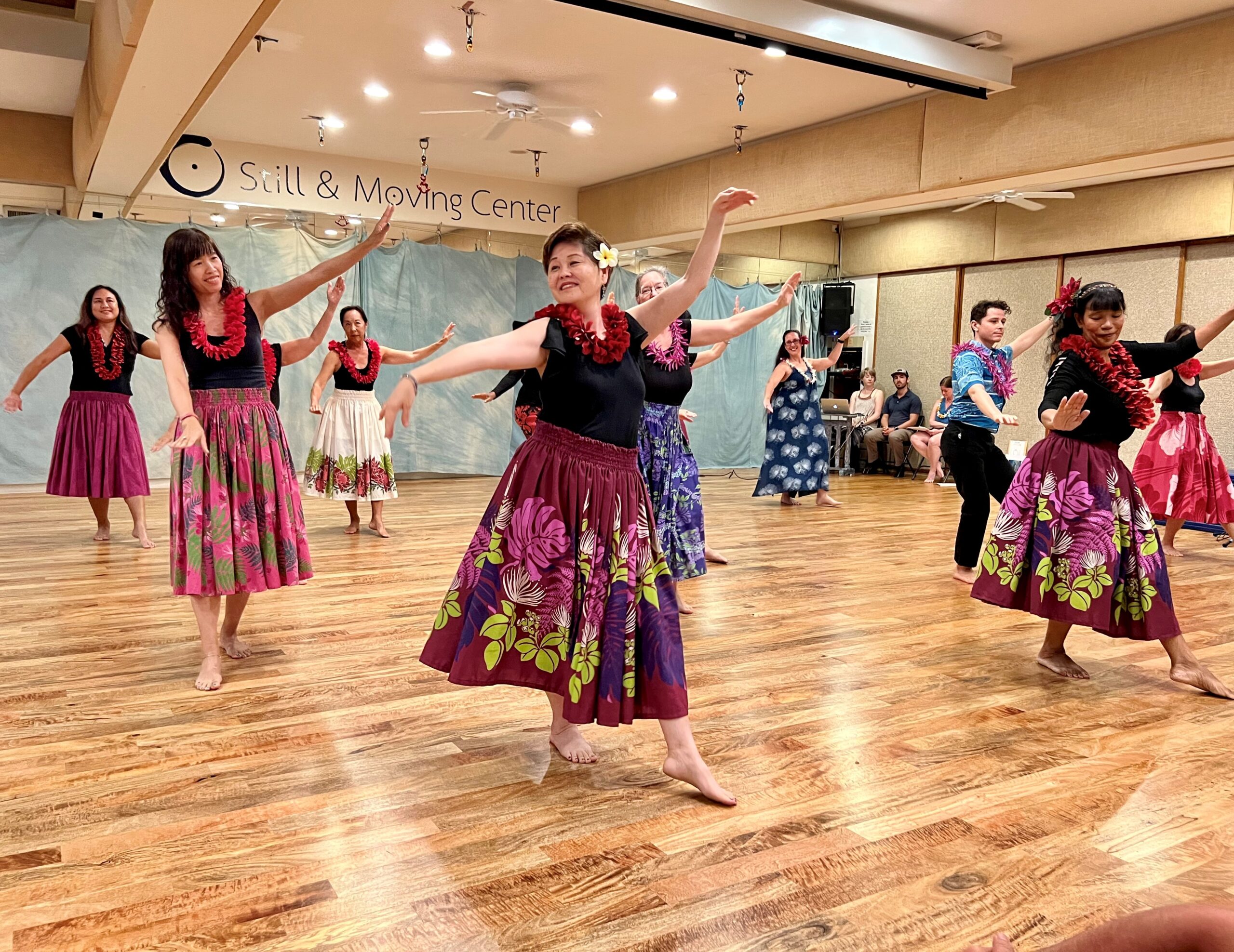 In-person & Online
Wednesdays 3:30-4:30 pm HST
(Thursdays 10:30-11:30 am JST) 
ハワイ時間:水曜日3:30~4:30pm
(日本時間:木曜日10:30~11:30am)
Japanese/English Bilingual class
The "I Love Hula" class is a perfect opportunity to enjoy hula fundamentals while uplifting your spirit. This class focuses on the basic steps and hand motions of hula. You learn to put all the pieces together into one integrated whole hula. Doris shares with you hula ʻauwana's lovely storytelling and connection to nature. You dance to both recorded music and to live music that she plays on her 'ukulele. Doris welcomes and makes time for any questions you may have about the choreography or how to perform specific movements. Most importantly, Doris emphasizes dancing with a pure and joyful heart. Sharing these graceful dances together will surely fill your soul!
"アイ・ラブ・フラ" はアロハの心を高め、楽しみながらフラの基礎を学ぶクラスです。このクラスではフラの基礎のステップや手の動きに集中します。フラのすべての要素を取り入れ、統合的なフラを学びます。ドーリスが美しく展開されるフラ・アウアナの世界をシェアし、ハワイの自然と繋がるよう導きます。ウクレレの生演奏やハワイアン・ミュージックにあわせて踊ります。フラの踊り方や表現方法、振り付けについてなどの質問も歓迎です。最も大事なことは、美しく喜びの心で踊ることを大切にすることです。この優美なダンスを一緒に踊り、アロハの精神を満たしましょう!
Doris Morisaki  ドーリス・モリサキ
With 8,000 hours of training with Mālia Helelā, kumu hula (master teacher of hula), Doris has earned the position of alaka'i hula (hula leader) under Kumu Mālia. She sings and plays ʻukulele while dancing hula, inspired by the example set by her teacher. 
Born to Japanese parents in Hawaii, Doris grew up speaking both Japanese and English. A true daughter of the islands, Doris exudes a vivacious warmth and genuineness for what she loves and believes in. Doris is well-loved for sharing her aloha. Starting from her years working at Hilton Hawaiian Village, Doris loves to share every good thing her island home has to offer. Whether in a teaching or ambassador capacity, Doris lends an infectious enthusiasm.
Doris took her first dance class at the University of Hawai'i, where she met now-husband Mark in a ballroom dance class. Hula ʻauwana has been a passion of hers since 2013. Steadily absorbing hula with our kumu hula Mālia Helelā has increased Doris' love of the dance, and correspondingly, her desire to learn the Hawaiian language. Doris humbly aspires to embody the sacred grace and beauty of hula, and to pass on the love of this cultural treasure. She gives liberally of her hula talents and knowledge.  Hula continues to make her a better person as it is imperative to dance with a pure heart and joyful smile. 
クム・フラ(フラのマスター講師)の下で8000時間のトレーニングを受け、アラカイ・フラ(フラのリーダー)としてのフラ・シスターや参加者のサポートをしてきたドーリスはクム ・マリアのようにフラを踊りながら、ウクレレを弾き、歌います。
ハワイで日本人の両親の元に生まれたドーリスは英語と日本語を話し育ちました。ロコ(ローカル・ハワイ人)のドーリスは陽気で、心暖かく、アロハの心で人々をもてなします。ヒルトン・ハワイアンビレッジで働いていた時から、訪れるゲストがハワイを存分に満喫できるよう、細心の心遣いを心がけてきました。講師として、アロハ大使として、ドーリスは周囲の人達に影響するような情熱で皆を導きます。
ハワイ大学で初めてダンスのクラスを受講したドーリスは社交ダンスのクラスで夫であるマークと出会いました。2013年以来、フラ・アウアナが彼女の情熱となりました。クム・フラ マリア・ヘレラのフラに没頭し、ドーリスのダンスに対する愛情、同様にハワイ語を学ぶ強い願望が増していきました。ドーリスはフラの神聖なる美しさを表現し、ハワイ文化の宝であるアロハ=愛を伝えていくことを心から願います。そして、フラの知識と才能を惜しみなくシェアします。自然と純粋な心と喜びの笑顔で踊るフラは 自分をより良い自分にし続けてくれる~とドーリスは語ります。 
Get the Still & Moving App
This post is also available in: 日本語 (Japanese)