In-person & Online
Thursdays 7:30 – 8:30 pm HST

クム マリア・ヘレラ
(日本時間:金曜日2:30-3:30pm)
This class focuses on hula basics of the ancient form of hula, working with the beat of the ipu (gourd drum). As we dance to the sound of Hawaiian chanting, we pick up important hula vocabulary. The proper hula form that we learn provides the foundation of every hula dance. While dancing, we systematically work the entire body from the feet up. 
We have a rare opportunity in that our kumu hula (traditionally trained and graduated Hula teacher) is also trained in traditional lomilomi massage and limbering techniques that hula halau (schools) used in olden times. Kumu Mālia weaves in elements of Haki Kino (body limbering) and Hakihaki (massage therapy with both hands and feet) throughout the class to enhance body awareness, flexibility, and strength.
このクラスではイプのビートにあわせ、古典式フラの基礎に集中します。ハワイアン・チャントの音にあわせて踊り、フラの重要な言語を学びます。本物のフラを通じて、フラダンスにおける全ての基礎を習得できるでしょう。踊りながら、足先から体全体を総合的に整えていきます。
伝統的なフラに付け加え、ハワイアン・ロミロミやハラウ(教室)で古くから伝わる、体をしなやかにする手法の伝統的な訓練も受け伝承するクム・マリアが教える古典フラの基礎・真髄を教える貴重な機会です。
クラスではハキキノ(体のしなやかさ)やハキハキ (手足のマッサージセラピー)の要素も組み込み、体の認識、柔軟さ、強さを高めます。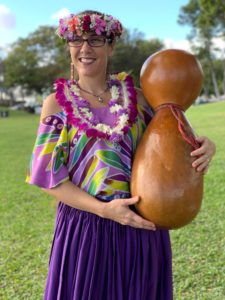 Kumu Mālia Helelā strives to live a life of grace. Having received and given massage since childhood, Mālia began her formal training in lomilomi as a teenager. She was licensed by the State of Hawaii as a massage therapist in 1998 and as an esthetician in 2002 and has spent the last twenty years giving massage professionally.  Mālia is an active member of Ka Pā o Lonopūhā, a school of lomilomi and Hawaiian healing practices founded by Keola Chan. In the last three years, Mālia has been training students herself in the art of giving lomilomi massage in 16 hour intensive trainings.
Mālia says her hula practice and lomilomi practice are the same in many ways. She continues to look to the beauty and grace of the Hawaiian environment for grounding and inspiration. Completing her uniki under Kumu Hula Puluelo Park in 2002, she now teaches hula and oli to a wide range of students, from infants and toddlers to kupuna. Malia studied oli (traditional Hawaiian chant) under Kumu Hula Keola Lake. Her halau (school of hula), named Na Hula Ola Aloha, meets at Still & Moving Center.
Get the Still & Moving App
This post is also available in: 日本語 (Japanese)