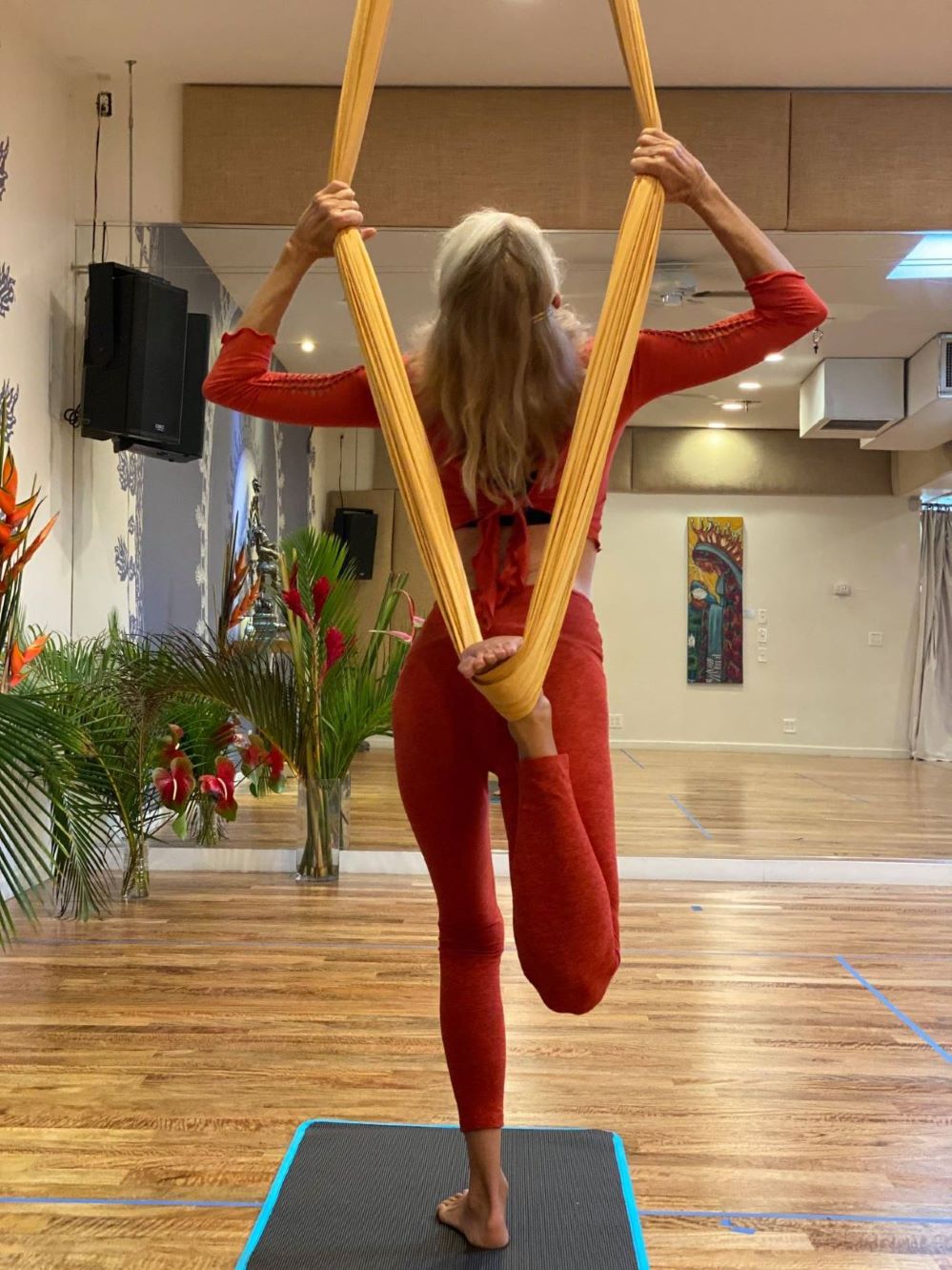 Drop-in class
Wednesdays 5:30 – 6:30 pm HST


Feeling ready to occupy vertical space doing yoga? This class is for every body to benefit from the poses of yoga. The aerial hammock is here to be your friend, your balance, your support in this yoga class. Throughout this class, you find traditional yoga poses as well as some aerial variations. The silky, sling-like hammock, which hangs and swivels from the ceiling, acts as another yoga prop. It assists you with both balance and stability, wrapping around you to hold your full body's weight so that you feel comfortable and completely supported. Inversions anyone? The hammock also serves as your very own spotter, allowing you to experience and feel benefits from yoga poses you did not think possible.
An aerial yoga program credentialed through the Yoga Alliance, AIReal Yoga™ uses a looped fabric that swivels freely on a single point taking you to a higher level of core stability. It allows you to deepen your stretch, correct your alignment, refine postures and safely perform inversions.
This aerial yoga class is extremely easy on the joints and will help you to feel proper core engagement, build full body strength, deepen any stretch to increase flexibility. You will correct misalignments within the body, strengthen your yoga mat practice, and bring about feelings of relaxation and bliss as you crawl into your hammock cocoon for savasana at the end of the practice.
You do not need to be an acrobat to defy gravity. Claim your piece of 'vertical real estate' in aerial yoga class with any of our AIReal Yoga™ certified instructors.
Kindly let your instructor know of any injuries. Contra-indications for aerial classes: glaucoma, heart-conditions, fused spine, pregnancy/postpartum without doctor clearance.
Clothing requirements: tight-fitting; no zippers or metal; under-arms covered. Jewelry off. T-shirt on! No perfume.
Please pre-register for all aerial classes at least an hour in advance and arrive 15 minutes early to ensure you can safely enjoy the class and have the chosen apparatus that you want set up. Since space is limited and setup time is necessary, we are not able to accommodate late arrivals to Aerial classes. If you sign up and do not show up to this limited space class, you will still be charged for the class.
Katharine brings her bright smile and effervescent spirit to every class! She loves helping students find their connection to health and self-expression through these amazing human bodies we live in.
Katherine certified as an AIReal Yoga™ instructor with found Carmin Curtis herself. For  over a decade at her Center for Embodied Spirituality, LLC in Marin County, California, Katharine taught hundreds of aerial and dance students. Utilizing various aerial props such as trapeze, hammock and lyra, she loves teaching dance and improvisation in an aerial setting (See soullovesthebody.com).
Katharine's background in movement runs deep and wide. As a dance and fitness educator, she is certified in aerial yoga, many somatic disciplines and the MELT Method Bodywork. She holds an MFA in Dance from the University of Arizona, is a graduate of the Tamalpa Institute where she studied with dance pioneer, Anna Halprin.
Some of Katharine's professional performance experience includes Liz Lerman Hallelujah Project, ORTS Theater of Dance, Body Prints Theatre, Zenith Dance Collective, Anna Halprin's "Spirit of Place" Stern Grove 2009 and UpSwing Aerial Dance Company National Dance Week Performance 2014-2018.
Get the Still & Moving App
This post is also available in: 日本語 (Japanese)